Product Sustainability
Improve your Product Sustainability with Makersite
Sustainability has many faces, but for us, it starts where products are made. That's why our goal is to help you make better products faster. With Makersite, you can find drivers of environmental impact in your product and supply chains, enable ecodesign and create all the reports you need around sustainability, standards-conformant, of course. What used to take months now takes minutes with Makersite.
Find drivers of environmental impact
Our integrated full-scale Life Cycle Analysis functionality helps you understand the drivers of your product's environmental footprint.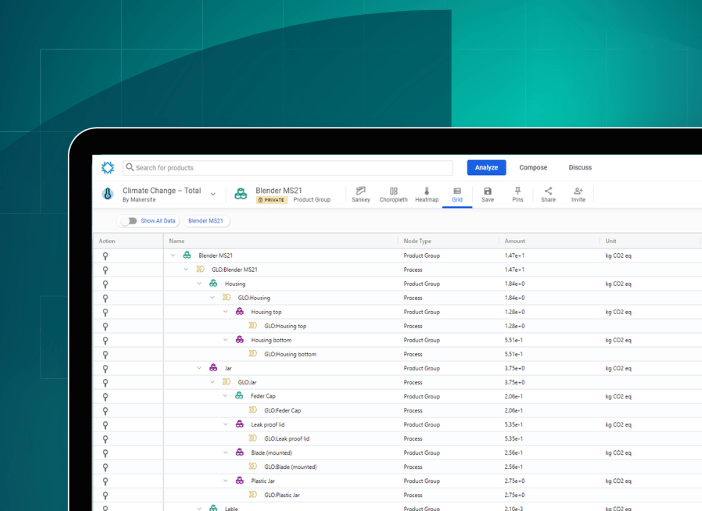 Digital twins simulate your product life cycle
Use activity-based modeling to simulate any product or service's entire life cycle. Makersite's recommendation engine will help you fill gaps and complete your models correctly and quickly.
Intelligent and fast BOM imports
Getting to action and generating product models is fast thanks to our Bill-of-Material importing powered by AI.
Import your models and data
Quickly transfer existing models through our EcoSpold interface without manual work and benefit from the auto-populated cost, health, regulatory, and supply chain information.
Interactive, regionalized visuals
Navigate through product components and their supply chains with our Mattermaps™ to identify drivers of environmental impacts and visualize regional results on maps.
World-class data
Use and build your ISO 14044 LCA on world-class ILCD conformant data from leading providers such as Ecoinvent, IDEA, and others.
Design for environment and circularity
Rapidly assess the effects of material or technology changes in the supply chain on environmental performance.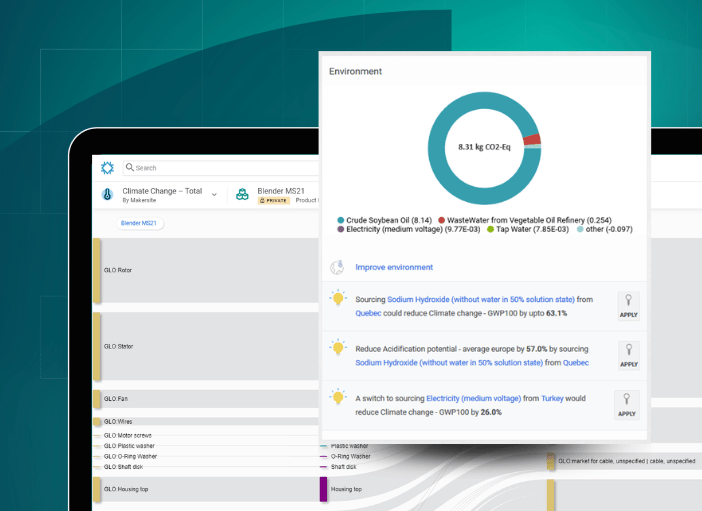 Material lookups
Provide simple and fast material lookups for your engineering teams to help them make quicker and more informed material or component choices.
Improvement suggestions
Automatically generate data-driven suggestions to improve your products across multiple criteria.
Intuitive, powerful scenario analyses
Interactively evaluate material or process alternatives at any supply chain/product model level and compare multiple scenarios simultaneously.
Decisions without the heavy cost of experts
Support decision-making with clear and actionable insights considering multiple criteria (e.g., carbon, water, etc.) and perspectives (market segments, stakeholders, etc.) simultaneously.
Collaborate with your sustainability team and product engineers effectively and securely in the cloud with version control, integrated publishing workflows, and team features.
Create standard-conformant reports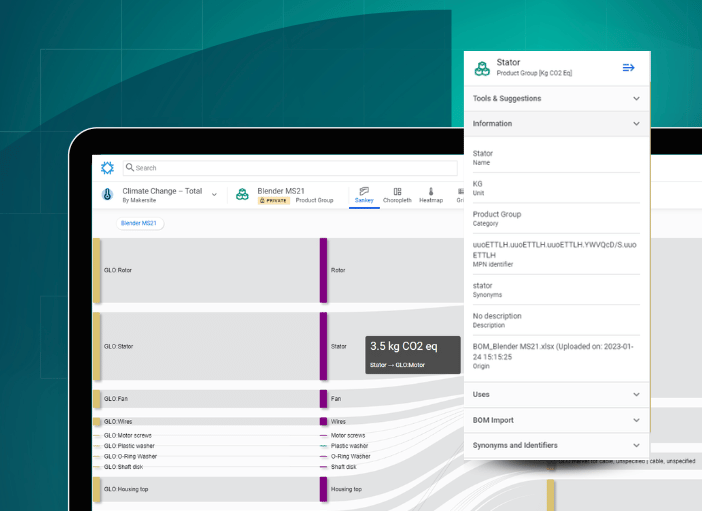 Use our data, wherever you want
Export our visualizations and data for use in your reports, internal systems, offline calculations, or presentations. We support various graphic formats and Excel or CSV.
Say no to complex excel formulas
Slice and dice your data quickly with our intelligent grids from anywhere in the application. Grids are easier to use than Excel, include pivot functionality, and are interactive and fast.
Can't find a report you're looking for? Just ask us – we can have custom reports available for you in a couple of hours.
Plug us in to your own business dashboard
Integrate reports directly into your BI tool of choice, e.g., Microsoft BI, Tableau, etc., so your whole company can keep track of the progress towards making more sustainable products.
Be transparent
Share interactive LCA data with your customers and stakeholders directly from Makersite or publish limited results, e.g., footprints for the public.