Interview with Ulrike Penz, Chief Sustainability Manager at Gruner + Jahr
Ulrike Penz is the Chief Sustainability Officer of Gruner + Jahr, one of the biggest publishing houses in Germany and part of RTL Germany. We talked to her about her work, learnings, plans, goals, and what sustainability means to her personally.
"The real change is in the supply chain and product development"
What does sustainability mean for you?
Ulrike Penz: When it comes to the more theoretical part, it's environmental, economic, and social dimensions. But that is clear. For me, sustainability means long-term thinking and questioning ideas, processes, projects, and actions. Awareness of what any action could mean to the dimensions of sustainability is the key to improvement.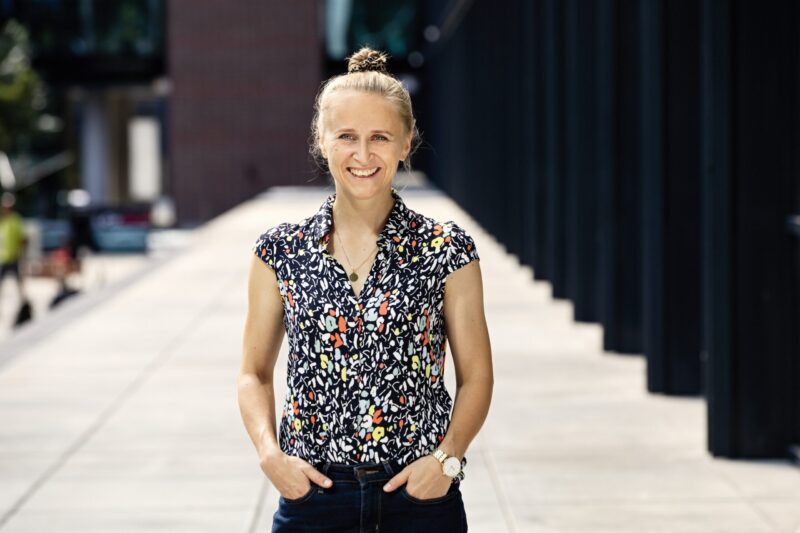 What motivates you to work in sustainability?
UP: There lies a big beauty in using less and getting more out of it. For me, one fundamental principle of sustainability is the efficiency of resources. It's essential to think about how we can build structures, processes, and products in a way that we need less and get more.
What would you rate your most successful measure for sustainability in the last years and why?
UP: I started working at Gruner + Jahr as a sustainability manager four years ago. One of my first but ongoing projects is our theme weeks. We do sustainability weeks every year, combining our journalistic and business approaches. During these weeks, we inform our readers, listeners, users, and viewers about sustainability topics via our media, TV, magazines, podcasts, audio, radio, etc. As a publishing house, it is our responsibility to inform people and build awareness of sustainability.
The theme weeks became one of our best business cases in the sustainability context. They are now so well established with both colleagues and business partners that we no longer have to solicit participation but are asked months in advance when it will start and how to join in.
On a corporate level, sustainability has become a strategic topic for G+J. There is no area in the company that has not yet dealt with sustainability – on its own initiative, in internal discussions with each other, or in meetings with business partners from all sectors. By now, we can see some change both internally and with partners. One example is the regular dialogues between our paper purchase department, production department, and editorial teams. Sustainability factors like energy, waste, or carbon emissions are now critical when deciding where a magazine should be printed and which paper should be used.
Since 2022, we have been able to count the product carbon footprint of our magazines, and we do it with our own methodology, which is externally verified. We have already reduced our carbon emissions by 30% for the magazine GEO while setting up the process. By now, GEO is produced climate-neutral. I want to emphasize that the reduction part to us is more important than the offsetting part. You can compensate from now to the next second, but the real change lies in the supply chain and product development.
How did you become a sustainability manager?
UP: It started when I was working on business models for GEO as a sustainability project manager. But with every idea I came up with, I asked myself: Can we do this if we don't know exactly where we stand and what we, as a company, need to do? It became clear to me quite fast that the answer was no. So I came up with a pitch and presented the idea to our executive board that we should set sustainability as a corporate strategy topic on the highest level, including a person officially responsible for it. And I added: I have time, and I'd love to do it.
With what measures do you make your own life more sustainable?
UP: There are common things like I've been vegetarian for over 20 years, and I try adding more vegan alternatives. I prefer going by bike. One thing which has developed more within the last years is that I try to buy second-hand or high-quality long-life clothing.
There are also some energy-saving measures regarding working in the office or home office, like switching off the screen. It's not that I haven't done that before, but since I advised my colleagues to do it, I remember it even more myself.
What's something new you learned in the past year?
UP: Currently, I'm working on benchmarks regarding gender diversity and gender equality. I realized that benchmarks are a good way to determine where you stand. But in the end, you have to define by yourself what company you want to be. You should ask yourself: What resources, purpose, and values do we have? What does that mean for our targets and our measures? Your inner values should tell you where you want to go instead of only looking at what others are doing.
What do you think companies lack to become better at sustainability?
UP: One of the questions that need to be asked is: Should economic growth be the only goal we all aim for? If you ask me, I would say no. There won't be any growth if you don't have your resources, the basis on which you build your business. And sustainability means holding and keeping this basis.
What is the biggest thing hindering you from implementing changes for more sustainability?
UP: Many people making decisions on sustainability are still questioning if those measures are necessary. That's a problem. And even though sustainability is in the mind of people and clients and customers, it is still not as important as economic growth, and that's hindering lots of things. Because in the end, when you have good ideas or measures to implement, the question is always: What does it cost?
People need to start seeing sustainability measures as an investment, making the future easier and better.
If you had one wish from a legislative point of view to make your job easier – what would you wish for?
UP: Regulations should focus on forward management more than on backward reporting. I
understand why they are about reporting what companies have or haven't done in the past. But nowadays, they should be more about the future, like the EU taxonomy which regulates the investment part of sustainability.
If you had one wish from your manager and your colleagues – what would you wish for?
UP: I'm going to say something that sounds like a PR claim: I wish all stakeholder groups to have sustainability in mind to make our company fit for the future. Everyone in the company should feel responsible for sustainability. Yes, my colleagues and I are the sustainability department, but that does not mean everybody else doesn't have to care about it. It's the opposite.
One positive example is a meeting with our event management team I had last year. They have been thinking about sustainability and collected some measures. In our meeting, we gathered our knowledge and rated the possible measures on how big the impact would be, how much it would cost and how many resources it would take up. We agreed on prioritization, and the team decided to integrate the list of measures into their fixed organizational processes so that sustainability will always be considered in the future. Those kinds of changes make a big difference.
When my colleagues say: let's try to jump a little higher than we were planning to, let's develop, improve, and get better – those are the moments I love my job the most.
Thank you for the interview.