Compliance
Manage Quality and Regulatory Requirements, Faster
Manage Material Master Data
Harmonize master data across the organization for accurate and timely compliance management.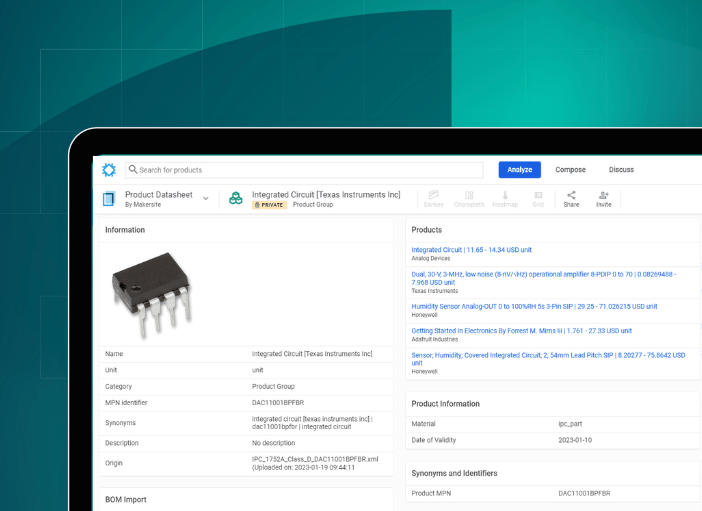 Intelligent and Fast Bulk Imports 
Rapidly instantiate product models and supply chains with AI-powered importers. Data is automatically validated and enriched from 3rd party trusted sources to ensure accuracy. Advanced duplication checks help improve quality and keep your data clean.
Approval Workflows for Data
Integrated approval workflows for user-added data to ensure that only validated information is accessible to the organization. Version control, granular access control, and full audit trails provide visibility into change management.
Flexible Data Model
Utilize the power of a schema-less graph database and our flexible data model to adapt to even the most complex data requirements. Store unlimited metadata, file attachments like SDS, drawings, etc. Makersite automatically cross-references all your information for easy access.
API Integrations
Connect to all your internal systems using our exhaustive APIs to ensure the availability of clean, harmonized master data and keep your systems synchronized. Makersite does all of your data transformations thus reducing the need for 3rd party ETL tools and middleware.
Manage Product Requirements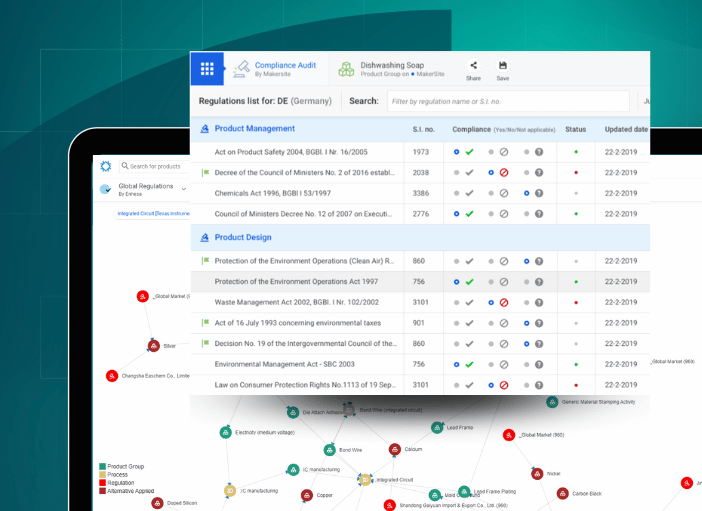 Regulatory Requirements
Maintain an updated database of regulatory compliance information to obtain a comprehensive and real-time overview of applicable regulations by geographical location and check compliance of each product based on composition or inventory. Automatically trigger alerts to product, site or EHS managers when non-compliances are detected.
Product Testing
Store and retrieve information about products, for example, test results, physicochemical data, etc. to reduce duplication of tests and to be able to cross-check findings.
Quality & Certification Requirements
Define companywide or region-specific technical requirements for your product categories to automatically generate market-readiness protocols for your products.
Hazard Communications Management
Provide accurate and up-to-date information about the hazards and risks associated with products, intermediates, and raw materials to employees, contractors and to all manufacturers, downstream users, and regulatory authorities.
Identify and Mitigate Compliance Risks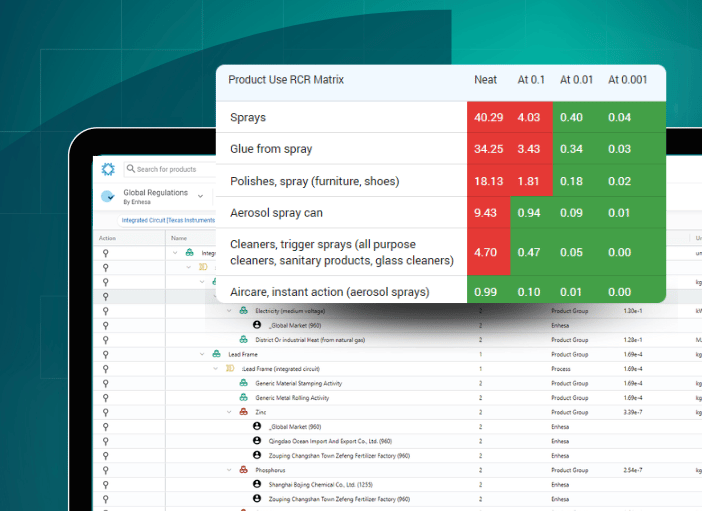 Early warning system

Use our supply chain data to automatically identify compliance hotspots and potentially harmful ingredients in your products early on in the design process.
Interactive & Regionalized Visualizations
Navigate through product components and their supply chains with our Mattermaps™ to investigate potential compliance issues.
EHS Chemical Incident Monitoring
Understand trends and causes of EHS events that involve potential or actual exposure/release of chemicals in order to be able to evaluate impacts and to demonstrate adequate risk management measures are being adhered to.
Chemical and substance tracking
Track and manage Inventories of chemicals and substances. Identify the substance content of products, intermediates, and raw materials to evaluate regulatory reporting requirements for regulations such as REACH, COMAH, SEVESO, etc. and others. Automatically trigger alerts to product, site or EHS managers in advance of non-compliances.
Track Compliance Status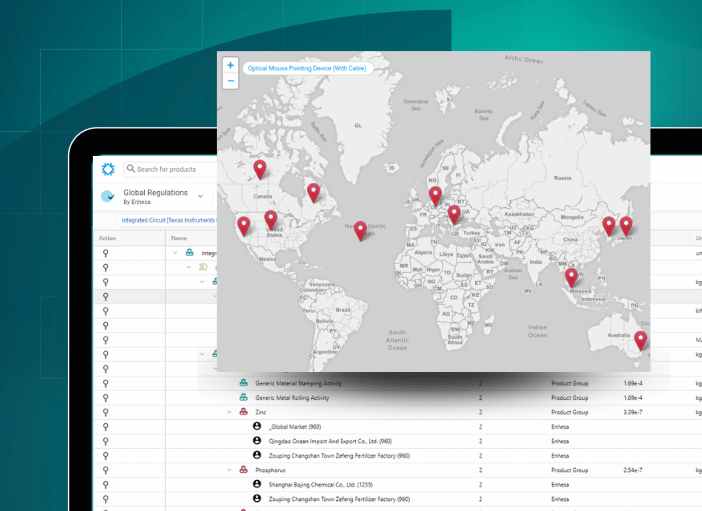 Compliance with REACH, RoHs, Prop65 etc.

Evaluate and track compliance of your products against 40+ regulatory substance lists that are always up-to-date. Manage compliance by adding exemptions and compliance declarations for full product roll-ups. Never miss a regulatory update again and reduce the time spent tracking regulations to the minimum.
Track Compliance Against Custom Lists and Future Regulations
Manage and evaluate substance compliance against your own lists, future regulations or restricted lists from your customers. Understand emerging risks to your product portfolio and take action by connecting with your suppliers or identify better alternatives.
Flexible reporting

Export our visualizations and data for use in your reports, internal systems, offline calculations or presentations. We support various graphical formats and excel or csv. Slice and dice your data with ease with our smart grids from anywhere in the application and if you can't find a report you're looking for, just ask us – we can have custom reports available for you in a couple of hours.
BI Integration
Integrate reports directly into your BI tool of choice e.g. Microsoft BI, Tableau etc. so that different teams can keep track of compliance status.
Collaborate with Suppliers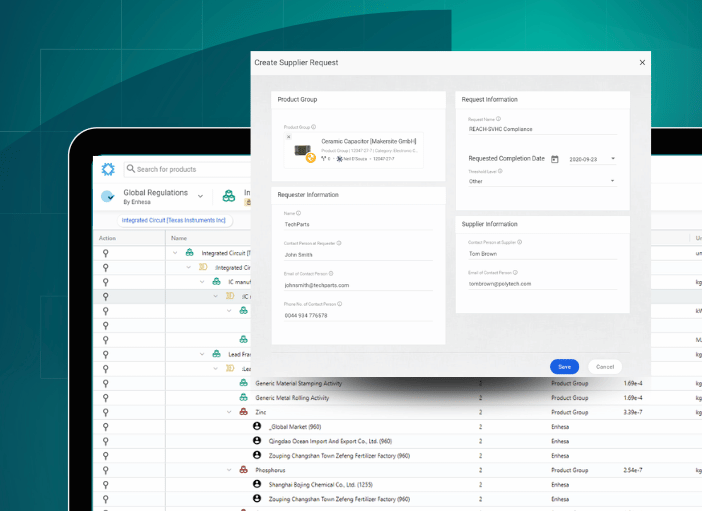 Survey suppliers for material declarations

Survey your suppliers for full material declarations or simply compliance declarations with our inbuilt survey functionality. Data from suppliers automatically connects to your product models and workflow tools can be used to support the whole process.
Import compliance declarations from suppliers
Easily import IPC files provided by your customers and automatically connect them to your products for roll-ups with intelligent validation checks. In addition, Makersite uses AI to enrich this information to add supply chain, cost, and environmental impacts.
Product Compliance FAQs
What happens to my data in the cloud?
Your data is your data. Always. We do not see or use your product data for any purpose unless you want us to.
We already have a supplier collaboration tool. How would Makersite help?
You can import supplier declarations into Makersite to perform product rollups so that you can assess compliance against regulations and standards. In addition, we use AI to automatically populate supply chain information, cost data and environmental impacts to aid your sustainability or cost-optimization programs.
We need to comply with a regulatory list that is not yet supported by Makersite. What can we do?
Just ask us. We'll add that to the list of supported lists if possible, and if not, you can always manage these lists on your own in Makersite
Can I run Makersite locally?
Makersite is a multi-tenant cloud-based offering. Most of our customers use this option. However, for larger deployments with over 50 users, we offer the option of hosting our environment locally. For those that fall in between this range, we also offer a dedicated hosting option so your data is physically separated from others.
How often is your data updated?
Data is updates as and when regulatory updates are posted on their respective websites. There may be a delay of a few weeks which is due to our internal data quality management process
What data is included?
We monitor 40+ regulations including REACH, RoHS, Prop65 and several national GHS schemes. For a complete list of the public and proprietary databases that are integrated, see Data Foundation.
How safe is my data?
We understand that product data can be extremely sensitive and have taken every technical and organizational measure necessary to ensure that your data remains safe and secure. Reach out to us and we can share details on how we manage security.
Can you provide material composition reports for products?
Yes. Makersite automatically categorizes your products, ingredients, and components against standards e.g. UN product codes so we can calculate material composition rollups.
Is there any size limit for BOMs that can be handled by Makersite?
We can handle BOMs of any size, from a few tens of lines to tens of thousands.
We sell the same product in various markets with different regulatory requirements. How can you help make sure we have the right schemes covered everywhere?
Our requirements management functionality is designed for this purpose. In addition to obligations that you manage on your own, we can also connect to live feeds for regulatory requirement through our partners.