Product data management
Cross-functional collaboration for more sustainable, compliant and profitable products
Product Data Management
Make dynamic changes across functions while delivering accurate, real-time information.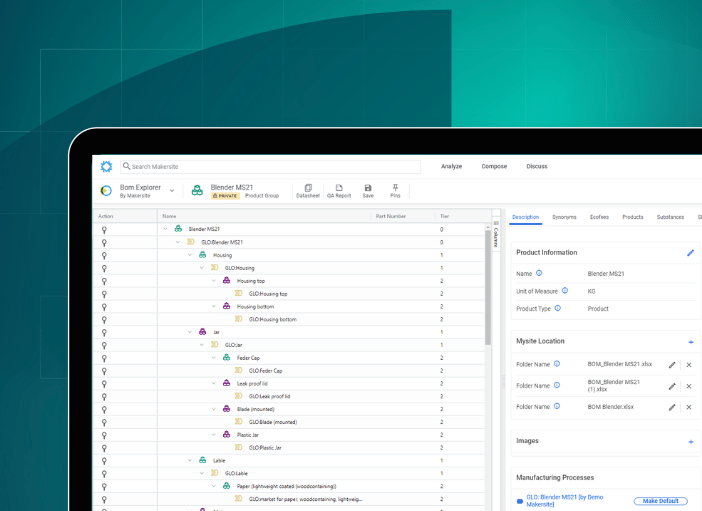 Standardize Your Product Data

Use our ground-breaking approach to standardization and integration of data including drawings, documentation, etc. Build a harmonized master data repository up to 10x faster than traditional approaches.
Connect Your Data
Connect data silos and standardize information for supply chain, quality, sustainability, compliance, cost, and life cycle management. Use Dynamic Data Integration™ (DDI) technology to fuse even the most complex information architectures with speed and flexibility, using a graph-based, schema-less data model.
Fill Data Gaps
Enrich your data using the largest product reference database in the world. Automatically fill gaps using live data feeds with AI-powered suggestions.
Make Data Available to Stakeholders
Connect to all your internal systems using our APIs to ensure the availability of clean, harmonized master data and keep your systems synchronized. Makersite does all of your data transformations thus reducing the need for 3rd party ETL tools and middleware.
Decision Support Across Teams
Reduce friction between departments and arrive at solutions faster with real-time scenario analyses.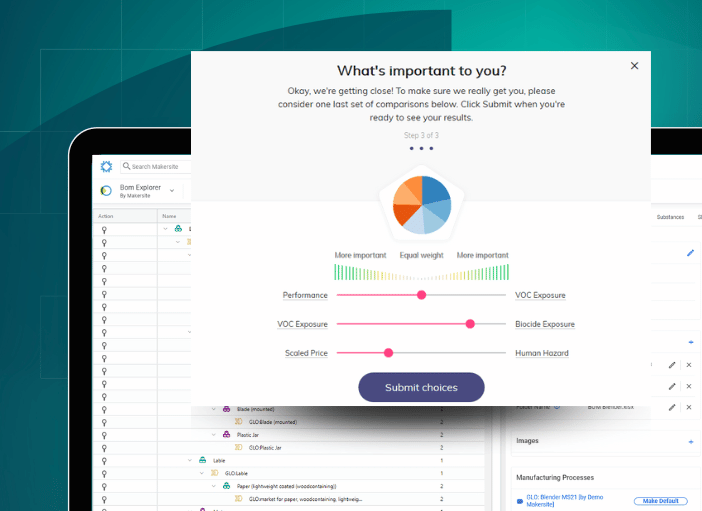 Multi-Criteria Decision Analysis

Support decision making in real-time with clear and actionable insights taking into account multiple criteria (e.g. carbon, water, etc.) and perspectives (market segments, stakeholders, etc.) simultaneously.
Automatic improvement suggestions
The world's first engine to automatically generate data-driven improvement suggestions for your products and supply chains to optimize for cost, environment, compliance, and others.
Intuitive, powerful scenario analyses
Interactively evaluate material or process alternatives at any level of the supply chain/product model and compare multiple scenarios.
Interactive product visualizations
Navigate seamlessly through product components and their supply chains with our Mattermaps™ to identify drivers of environmental impacts, quality or compliance issues, etc. and evaluate alternatives.
Change and Configuration Management
Eliminate costly errors and rework by understanding the impacts of changes in real-time.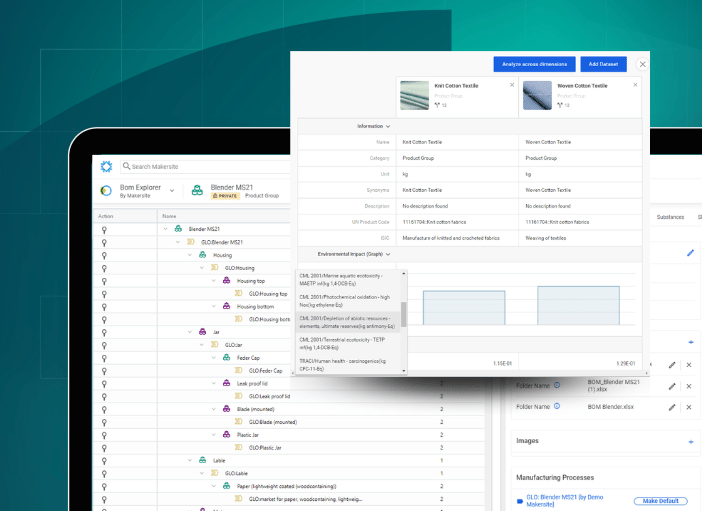 Rapid design analyses

Enable engineers to effortlessly evaluate product designs, even at early stages, using AI-powered Bill-of-Material importers and analysis tools. Identify potential issues and evaluate design alternatives quickly.
Real-time data updates

Update changes to internal information like product specifications, quality information or external factors like new materials or upcoming regulations in real-time so that impacts can be assessed and validated quickly across teams.
Instant impact assessment
Instantly assess how product changes affect compliance, sustainability, costs, etc. with inbuilt tools, and collaborate quickly to resolve issues before they become problems.
Maintain data integrity
Integrated approval workflows for user-added data to ensure that only validated information is accessible to the organization. Version control, granular access control, and full audit trails provide visibility into change management.
Product Data Management FAQs
What happens to my data in the cloud?
Your data is your data. Always. We do not see or use your product data for any purpose unless you want us to.
We have complicated products. Would Makersite scale?
Makersite uses cutting edge technologies to combat the problem of decreasing performance with increasing complexity. This includes a fundamentally different approach to storing information, a micro-service based distributed architecture and more. Get in touch with us for more information on this topic.
What are the sources of your data?
We use a combination of proprietary data feeds and offline databases to calculate product costs. For a list of our sources please see Data Foundation
Can I run Makersite locally?
Makersite is a multi-tenant cloud-based offering. Most of our customers use this option. However, for larger deployments with over 50 users, we offer the option of hosting our environment locally. For those that fall in between this range, we also offer a dedicated hosting option so your data is physically separated from others.
What kinds of systems do you integrate with?
Makersite has an API-first policy which means that all our functionality can be access through APIs. This allows for integration into any kind of system including ERP, PDM, PLM, QMS, EHS and legacy systems.
We already have a PDM/PLM solution. How would Makersite help?
This depends on the implementation of your current solution. The core purpose of Makersite is decision support – helping the company understand a product from different angles and understand the implications of internal and external changes to the business in real-time. This typically goes beyond the scope of what PDM and PLM systems do. PDMs can simplify the implementation and use of Makersite by providing a basis of BOM or product data. Please contact us to talk to an expert about this topic.
How safe is my data?
We understand that product data can be extremely sensitive and have taken every technical and organizational measure necessary to ensure that your data remains safe and secure. Reach out to us and we can share details on how we manage security.
Can we manage multiple product variants?
Makersite as full version control for your data allowing you to track product information at all stages of the product lifecycle. It automatically detects commonalities between product BOMs using component analysis and reduces duplication of part information.
Can I manage process information?
Yes, Makersite is designed to manage all kinds of data that you generate in the process of making products. That includes granular activity information among other things.